Cecil E. Vinyard 1944 - 2008 Tonganoxie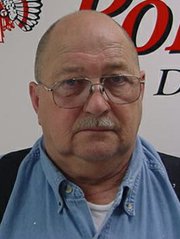 Funeral services for Cecil E. Vinyard, 64, will be 1 p.m. Saturday, May 24 at Sacred Heart Catholic Church, Tonganoxie. A private inurnment will be in the National Cemetery, Leavenworth.
Mr. Vinyard died Monday, May 19, 2008, after a yearlong battle with cancer.
He was born Jan. 15, 1944. He was raised in Kansas City, Mo.
Mr. Vinyard served in the U.S. Army and fought in the Vietnam War.
Mr. Vinyard worked for the Crouse Cartage Company before retiring. He also was a member of the International Brotherhood of Teamsters, local #41, Kansas City, Mo. For 23 years, he worked for the Tonganoxie Police Department before retiring his badge, #608, but remained on the force working as a crossing guard until his health would no longer allow it.
Mr. Vinyard is survived by his wife, Sophia Vinyard; his daughters, Vickie Vinyard, Lisa Vinyard and Pamela Turner; son, Michael LeRoy Vinyard; 10 grandchildren and one great-grandchild, all of Tonganoxie.
In lieu of flowers the family asks donations be made to the American Cancer Society, P.O. Box 22718, Oklahoma City, OK 73123.
Contact Quisenberry Funeral Home by phone: 913-845-2740