Dave Wayne St. Cyr 1972 - 2009 Tonganoxie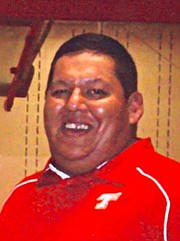 A funeral service for Dave Wayne St. Cyr III, 37, Tonganoxie, will be at 10 a.m. Saturday, Jan. 2, at West Haven Baptist Church, Tonganoxie.
Burial will be in Hubbel Hill Cemetery, Tonganoxie.
Mr. St. Cyr died Wednesday, Dec. 30, 2009, at Lawrence Memorial Hospital.
He was born May 28, 1972, in Lawrence, the son of Dave Wayne Jr. and Hermine H. Tobacco St. Cyr.
He graduated from Lawrence High School in 1990. Mr. St. Cyr received an associate's degree from Haskell Indian Nations University in 1992. He graduated from North Dakota State University with a bachelor's degree in education in 1995. He attended both colleges on a track scholarship.
He was a 10-year employee for the Tonganoxie school district. He coached football, track and basketball in Tonganoxie and was a teacher in the special education department. Mr. St. Cyr was a member of the Winnebago Tribe in Nebraska.
Survivors include his parents, of Lawrence; and a sister, Deanna St. Cyr, Lawrence.
He was preceded in death by his grandparents, Dave W. and Evelyn St. Cyr, and Elmer and Ida Tobacco; an uncle, Gary St. Cyr; and a cousin, Narvel Tobacco.
The family will meet friends from 4 p.m. to 6 p.m. Friday at Warren-McElwain Mortuary.
The family suggests memorials to the Lawrence Humane Society, sent in care of the mortuary, 120 W. 13th St., Lawrence, KS 66044.
Online condolences may be sent at warrenmcelwain.com, subject: St. Cyr.
Contact Warren-McElwain Mortuary and Cremation Services by phone: 785-843-1120