James O. Edmonds 1937 - 2010 Tonganoxie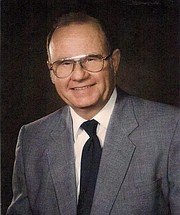 Funeral services for James O. Edmonds, 72, Tonganoxie, will be at 10 a.m. Saturday at Tonganoxie Christian Church, 204 Washington St., Tonganoxie. Burial will be in Fall Creek Cemetery, Leavenworth.
Mr. Edmonds died Tuesday, June 22, 2010, at Overland Park Regional Medical Center.
He was born Sept. 26, 1937, in Leavenworth, the son of Oliver and Anna Bell Edmonds. He graduated from Park College in Parkville, Mo.
Mr. Edmonds retired from the U.S. Army Corps of Engineers in 1992 and was a Realtor with Reece and Nichols Premier Realty, Tonganoxie.
He married Delores Bateson on April 17, 1960, in Atchison. She survives, of the home.
Other survivors include three sons, James, Tulsa, Okla., Robert, McLouth, and John, Tonganoxie; a brother, Bernard, St. Paul, Minn.; and 14 grandchildren.
Friends may call from 6 p.m. to 8 p.m. Friday at Quisenberry Funeral Home, Fourth and Delaware streets, Tonganoxie.
The family suggests memorials to the American Diabetes Association, sent in care of the funeral home, P.O. Box 993, Tonganoxie, KS 66086.
Contact Quisenberry Funeral Home by phone: 913-845-2740