Hubert A. Kimberlin 1937 - 2011 McLouth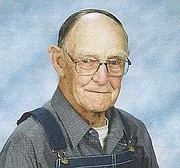 Services for Hubert A. Kimberlin, 95, McLouth, will be 3 p.m. Sunday, Aug. 21, at the McLouth United Methodist Church.
Burial will follow at the McLouth Cemetery.
Mr. Kimberlin died Wednesday, Aug. 17, 2011, at the F.W. Huston Senior Living Center, Winchester.
He was born Nov.10, 1915, at Arvada, Colo., the son of James Harry and Edna Melvina Compton Kimberlin. The family moved to Winfield in 1950, and Mr. Kimberlin operated a Texaco gasoline station for two years before moving back to McLouth. Mr. Kimberlin had lived in McLouth since 1952 and was a farmer. He also started working for KPL as a boiler fireman and retired as a warehouse manager. He attended the McLouth United Methodist Church.
He married Mary Alice Babcock on March 4, 1937, in Tonganoxie. She preceded him in death on May 24, 2006.
Survivors include four sons, Russell Kimberlin, Tonganoxie, James L. Kimberlin, Montrose, Colo., John F. Kimberlin, Austin, Colo., and Ronald L. Kimberlin, Franklinton, La.; a daughter, Juanita Herries, McLouth; 12 grandchildren; and 13 great-grandchildren. He was preceded in death by two brothers and five sisters. Visitation will be 6 to 8 p.m. Saturday at the church. Memorial contributions may be made to the United Methodist Church Building Fund or Jefferson County Hospice and sent in care of Barnett Family Funeral Home, P.O. Box 602, Oskaloosa, KS 66066.