Edward L. Frederick 1927 - 2011 Leavenworth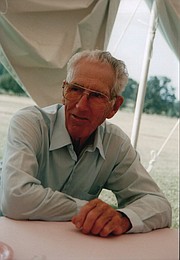 Mass of Christian Burial for Edward L. Frederick, 83, Leavenworth, will be 10 a.m. Saturday, July 2, 2011, at Sacred Heart Catholic Church, 1401 Second Ave., Leavenworth. Burial will follow at Mt. Calvary Cemetery, Leavenworth.
Mr. Frederick died Wednesday, June 29, 2011.
He was born Aug. 15, 1927, near Topeka, a son of Frank and Nellie (Noonan) Frederick. He moved with his family to Leavenworth when he was 6 months old.
Mr. Frederick was a lifelong farmer and steward of the land. As a young man, he proudly worked alongside his father and brothers at Frederick and Sons Feed and Implement Company in Leavenworth. He inspired all with his patience, light-heartedness, work ethic and appreciation of the natural beauty of the land.
Mr. Frederick married Mary Ann Baragary in 1951. She survives him. Other survivors include two daughters, Debra (the late Timmy) Howard and Linda (Bernie) Bristow, both of Leavenworth; four grandchildren; two great-grandchildren; a sister, Bernice (John) Martens; and many nieces and nephews to whom he will always be "Uncle Eddie."
He was preceded in death by an infant daughter, Pamela; sisters Lotas Frederick and Virginia Hutchinson; and brothers Francis Frederick, Ralph Frederick, Virgil Frederick and Henry Frederick.
Visitation will be from 6 to 8 p.m. Friday, July 1, at the RL Leintz Funeral Home, 4701 10th Ave, Leavenworth.

Contact R.L. Leintz Funeral Home by phone: 913-351-0200