Marcus LeRoy Woodhead 1929 - 2011 McLouth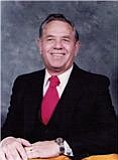 Memorial services for Marcus LeRoy Woodhead, 82, McLouth, will be 11 a.m. Saturday, Sept. 17, at the McLouth Church of the Nazarene, where visitation will be from 10-11 a.m. Saturday.
Inurnment will be at McLouth Cemetery.
Cremation is planned.
Mr. Woodhead died Thursday, Sept. 8, 2011, at his daughter's home in rural McLouth. He was born Aug. 3, 1929, at Lawrence, the son of Matthew Charles and Devena Lena Seybold Woodhead. He was a 1947 graduate of McLouth High School and attended Kansas University. Mr. Woodhead worked as a truck driver for more than 60 years, retiring in 1997 from Koch Industries of Wichita. He also worked for Rick Smoots trucking and Jim Kimmel in McLouth. He served as a volunteer driver for the Jefferson County Service Organization in Oskaloosa for several years. He was a member of the McLouth Church of the Nazarene. He married Oona Mae Obermeier on Nov. 5, 1950, in McLouth. She survives, of the home.
Other survivors include one son, Mark Woodhead, Parker; two daughters, Dorothy Cleavinger, McLouth, and Devena Singleton, Lee's Summit, Mo.; one brother, Marlin Woodhead, Lenexa; three sisters, Helen Bates, Rose Hill, Myrtice Fuqua, Hesston, and Anabel Knapp, Springdale; four grandchildren; two step-grandchildren; five great-grandchildren; and three step-great-grandchildren.
He was preceded in death by two sons, Charles Woodhead and Steven Woodhead; a grandson, Cory Cleavinger; and a sister, Thelma Farris.
Memorials are suggested to the Alzheimer's Foundation and may be sent in care of the Barnett Family Funeral Home, 1220 Walnut, P.O. Box 602, Oskaloosa, 66066; barnettfamilyfh.com.