Ola Louise Weeks 2011 - 2011 Lawrence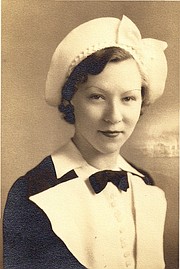 Funeral services for Ola Louise Weeks, 96, Lawrence, were Friday Sept. 16, at Eudora United Methodist Church, 2084 N. 1300 Road, Eudora.
Burial followed at Memorial Park Cemetery in Lawrence.
Mrs. Weeks died Sept. 13, 2011, at Lawrence Memorial Hospital.
She was born June 21, 1915, in rural Tonganoxie, daughter of Clyde C. Davidson and Rosalie M. (Hollingsworth) Davidson. Mrs. Weeks was a homemaker and 1932 graduate of Tonganoxie High School, Lawrence Business School and Menninger Bible Study in Topeka. She married Homer Lyle Weeks on May 20, 1939, in Osage City. He preceded her in death on March 5, 1995. An infant brother and a sister, Dorothea, also preceded her in death.
She is survived by her children Elizabeth A. (Nicholas) Woods, Eudora, David L. (Maria) Weeks, Lawrence, Julian C. Weeks, Yorktown, Va., and William V. (Linda) Weeks, Eudora; a sister Mary Rose Robb, Tonganoxie; seven grandchildren; and 11 great-grandchildren.
Mrs. Weeks loved to sing at church events, in the church choir and with the Harmony Singers. She was an active member of the Eudora United Methodist Church, where she taught Sunday school, Vacation Bible School and was an MYF leader along with her husband, Lyle. She held offices in United Methodist Women and the Gideon's Ladies Auxiliary. Louise loved to bake cookies for the Eudora United Methodist Church preschool, even into her 90s.
She was actively involved in the Belleview 4H, Meadowlark 4H and Vinland Valley 4H clubs. She was also active in the EHU, where she was honored for 50 years of active membership in these organizations in 1995.
She is remembered by her family and friends as a patient, loving mother and friend.
Online condolences may be sent at rumsey-yost.com.