Dawn Marie Espeland 1960 - 2012 Tonganoxie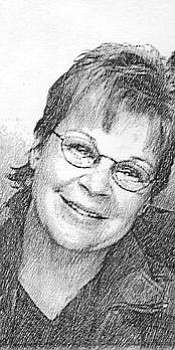 Dawn Marie Espeland, 52, Tonganoxie, KS, passed away Thursday August 9, 2012 at her home.
The family will receive friends from 5-7pm Saturday August 18, 2012 at the Tonganoxie Performing Arts Center where a celebration of life will be held at 7pm. A graveside service will be 9 am Monday August 20, 2012 in the VA National Cemetery, Leavenworth, KS.
Dawn was born May 12, 1960 in Blue Earth, MN, the Daughter of William Jr. and Pat (Jorgenson) Coupanger. She graduated from Elmore High School and continued her education at Rochester Vocational Technical School majoring in Medical Terminology. She worked as the head of the Medical Secretary Department for the Staton Island University Hospital, and later for the Tonganoxie School District USD #464 as the Assistant Director of Transportation, and as a School Bus Driver. She was Baptized and Confirmed in Shiloh Lutheran Church, Elmore, MN. She was a long time member the Tonganoxie Christian Church and was a current member of the Cornerstone Family Worship, Tonganoxie. She was united in marriage on Feb 26, 1988 in Ft. Snelling Chapel, St. Paul, MN to Wendell Espeland, he survives of the home.
Other survivors include; her mother, Pat Coupanger, Elmore, MN; one son, Jason of the home, one daughter, Dena of the home; two brothers, Douglas Coupanger, Oxford, MI, and Gregory Coupanger, Lakeville, MN; three sisters, Sharla Lyon, Austin, MN, Brenda Huber, Elmore, MN, and Sheila Meyer, St. Louis Park, MN.
In lieu of flowers the family suggests memorials to the Dawn Espeland Memorial Scholarship Fund C/O First State Bank and Trust, P.O. Box 219, Tonganoxie, KS 66086. The family asks that testimony about Dawn's life or condolences for the family be left at www.quisenberryfh.com.
Please sign this guestbook at Obituaries.LJWorld.com.
Contact Quisenberry Funeral Home by phone: 913-845-2740