Denise Patricia Riedel-Peterson 1957 - 2013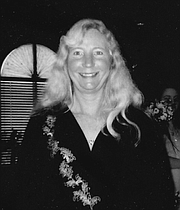 Denise Patricia Riedel-Peterson
April 18th 1957- October 23rd 2013
Denise Peterson passed away on October 23rd, 2013 at Midland Care Hospice in Topeka Kansas. She was surrounded by family and friends and passed peacefully. Denise was born in Salina and graduated high school in 1975 from Turner High in K.C. Kansas. She was a certified dental assistant and was looking forward to her new career. Denise enjoyed working at Kansas University in dining services and the grocery business and will be missed by her many friends.
Denise was happily divorced and enjoying her new life. She liked to shop at flea markets for hours, sew, plant flowers, garden and take motorcycle rides in search of the perfect cheeseburger. She enjoyed train rides and road trips to Colorado, Nebraska, Missouri, and Kansas. Some of her favorite trips were to St. Louis to stay by the arch and eat the best steak ever at Ruth's Chris, and Estes Park, Colorado to see the mountains. One of her favorite memories was answering an ad to help with the live on site recording of the Peter Frampton Comes Alive 35 Tour in Overland Park and Omaha. Denise and a friend were able to see both concerts for free and get a CD set for helping with the live Abbey Road recordings. She was living in Topeka Kansas and was remodeling a two story home with her good friend Mike.
She is preceded in death by her father, Richard Riedel and her brother, Brian. Surviving is her mother, Nancy, a brother, Roger, and two sisters, Renee and Margaret. Denise had three wonderful children: daughter, Kristina and two sons, Patrick and Jeremiah. She was blessed with seven grandchildren.
Denise was cremated and a memorial service will be held at the Cornerstone Family Church in Tonganoxie Kansas on Saturday, November 9th, at 2pm. Contributions may be made to City of Angels Thrift Store 613 E 4th St., Tonganoxie, Kansas, Midland Hospice Care of Topeka, Kansas, or the American Cancer Society. Online condolences may be made at www.charterfunerals.com
Please sign this guestbook at Obituaries.LJWorld.com.