John R. McKone 1932 - 2013 Hardyville, VA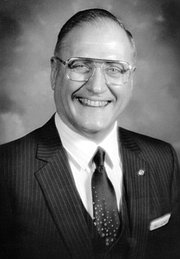 Colonel (Ret.) John R. McKone, 81 years old, of Hardyville, VA died October 31, 2013 at Rappahannock General Hospital, Kilmarnock, Va. He was born on June 16, 1932 in Kansas City, Missouri. He was the son of the late Jean A. McKone and Edna Ruth Eckert McKone. He is survived by his wife, Norma Jean, his sons, John R II (Brenda) and Robert Andrew (Tara) and daughters Catherine Yvonne Mackish and Lori Sean Sullivan (John), and step-children Katherine Jean Ball (Jim) and Judith Ann Coccoma (Joe). A brother, Robert Jean predeceased him. He also leaves sixteen grandchildren and twelve great grandchildren.
John was raised in Tonganoxie, Kansas and graduated from Kansas State University in 1954 where he was the student Wing Commander of 1400 Air Force ROTC cadets. He served 28 years in the USAF, retiring as the Wing Commander of Offutt AFB, NE on Sept 1, 1983. His military decorations include the Silver Star and Legion of Merit.
Colonel McKone became famous when his RB-47H reconnaissance bomber was shot down over the Barents Sea on July 1, 1960 by a Soviet MIG-17. He was one of two survivors (Freeman Bruce Olmstead was the other), both of whom were placed in solitary confinement for 7 months in Moscow. They were released on Jan 25, 1961 they were flown to Washington D.C. where they were met plane-side by President John F. Kennedy. A book entitled, The Little Toy Dog, written by William L. White relates the full story of this incident.
John was an Eagle Scout with over 40 years of service as a volunteer and professional Scouter. He was active in his church, Spring Hill Baptist Church, Cobbs Creek, VA, where he served as a Trustee, Deacon, Sunday School Director and class leader, and Choir member. He was an active Gideon serving as President of the local Mid-Tidewater camp, Rotarian (past President and Past District Governor), and Paul Harris Society member. He was also a Mason, member of the Scottish Rite and the Shrine.
Calling hours will be 6-8 PM the 8th of Nov at Bristow-Faulkner Funeral Home in Saluda, VA.
A funeral service will be held at 11 am on 9 Nov at Spring Hill Baptist Church with Dr. Charles McDaniel officiating. A Military burial will be held at Arlington National Cemetery in Arlington, VA at a later date. In lieu of flowers, memorial gifts may be made to the Gideons International, Mid-Tidewater Camp, P.O. Box 1637, Gloucester, VA 23061 or to a charity of your choice.
Please sign this guestbook at Obituaries.LJWorld.com.