Elmer Ellsworth McAferty 1931 - 2013 McLouth, KS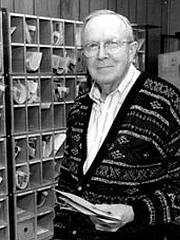 Elmer Ellsworth "Salty" McAferty, 82, of McLouth, KS., died September 22, 2013 at the F.W. Houston Senior Living Center in Winchester, KS. He was born April 1, 1931 in Topeka, the son of Harold Otis and Louise Mary Boutwell McAferty. He was a 1949 graduate of McLouth High School and graduated from Washburn University, Topeka, KS., in 1954, receiving his B.A. of Science and Business.
Elmer worked as the Post Master at the McLouth Post Office for 40 years, retiring in 1999. He served in the United States Marine Corp. from 1954 to 1956, receiving an honorable discharge as a 1st Lieutenant. He was a member of the McLouth United Methodist Church, a lifetime member of the Jefferson County Historical Society, a member of the McLouth Kiwanis Club, he was a Past Master of the Masonic Lodge #256 at McLouth, a member of the National Association of Postmasters, and the National Association of Retired Federal Employees.
He married Velma Marie Newell on August 22, 1953 in Oskaloosa, KS, She survives of the home, other survivors include two sons, Mike McAferty, Phoenix, AZ., Steve (Deb) McAferty, McLouth, KS., two daughters, Sandra (Mark) Nowasell, Tonganoxie, KS., and Tina (Ronnie) Beach, Oskaloosa, KS., one sister, Reita (Dorei) Powell, Ormond Beach, FL., 8 Grandchildren, Krishna (Luke) Hattemer, Jacob (Amanda) Beach, Zach Beach, Brooke Beach, Alex (Clarie) Nowasell, Joshua (Daneille) Nowasell, Nick McAferty, and Monica McAferty, two great grandchildren, Cale Hattamer, and Asher Ellsworth Hattamer, He was preceded in death by two brothers, Roy and Edgar McAferty.
Services will be 10:00AM Wednesday at the McLouth United Methodist Church, burial will follow at the McLouth Cemetery. Visitation will be 6:00 to 8:00PM, Tuesday at the Barnett Family Funeral Home in Oskaloosa. Memorials may be made to Cale's Cause or the the McLouth United Methodist Church and sent in care of the Barnett Family Funeral Home, PO Box 602 Oskaloosa, KS 66066. Online condolences may be made at www.barnettfamilyfh.com
Please sign this guestbook at Obituaries.LJWorld.com.