Helen Marguerite Neese 1917 - 2013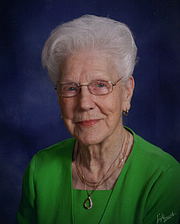 Helen Marguerite (Baumgardner) Neese, 95, peacefully left this earthly life to fully embrace an eternal life with her Lord and Savior on Friday, October 18, 2013, three weeks shy of her 96th birthday. This was the day for which she had lived.
Helen was born in VanBuren, Ohio, on November 10, 1917, to Ethel (Huffine) Baumgardner and Harry James Baumgardner. She graduated from Hominy (OK) High School at age 16 with honors. While attending Drury Business School, Tulsa, she earned the title of Oklahoma State Typing Champion, typing 91 words per minute on a manual typewriter.
It was in Tulsa that she met the love of her life, Ben Neese, whom she would later marry and share over 68 years of marriage. Following Ben's multiple business transfers, they settled in St. Joseph, MO, with their two children, Bob and Jan. While in St. Joseph, Helen served as Welcome Wagon Hostess, first female editor of the St. Joseph Livestock Journal, and program director for radio station KRES, in addition to being Girl Scout and Cub Scout leader. She was a devoted Sunday School teacher and active church member. They retired to Pharr, TX, for several years where they spent some of their happiest and busiest times. In 1994 they moved to Lawrence, KS, where they lived until Ben's passing on August 15, 2007. Helen spent the last three and one half years at Vintage Park of Tonganoxie.
She was preceded in death by her husband, Ben, her parents, and eight siblings. She is survived by son Bob Neese and wife, Corinne Webb, of Miami, FL, daughter, Jan Schaefer and husband, Larry, Tonganoxie, KS, sister-in-law Ruth Beaver, Dallas, TX, four grandchildren, two great-grandchildren, and one great-great grandchild.
A celebration of Helen's life will be held on Saturday, October 26, at 10:00 a.m., at Cornerstone Family Worship Church, 6th and Church St., Tonganoxie, KS. In lieu of flowers, the family suggests memorials to the building fund of Cornerstone Family Worship in care of Jane Turner, treasurer, Cornerstone Family Worship, 128 E. 6th St., Tonganoxie, KS 66086. Please sign this guestbook at Obituaries.LJWorld.com.