Brandon Lee McKinsey 1975 - 2014 Tonganoxie, KS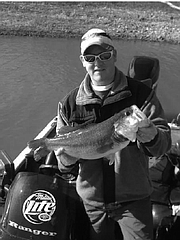 Brandon Lee McKinsey, 39, Tonganoxie, KS, passed away Monday August 18, 2014.
Funeral 11 am Friday August 22, 2014 at the Tonganoxie Christian Church. Burial will follow in Hubbel Hill Cemetery, Tonganoxie. The family will receive friends from 6-8 pm Thursday at the Quisenberry Funeral Home, Tonganoxie.
Brandon was born March 2, 1975 in Kansas City, KS, the son of Kedrick and Virginia (Leighty) McKinsey. He worked as a mechanic for Ozawkie Boat Company. He had a love for fishing and to compete in fishing tournaments. He was united in marriage June 16, 2007 in Mexico to Amy Guinn. She survives of the home.
Other survivors include; his father, Rick McKinsey, Shawnee, KS; Mother & Father, Ginny & LeRoy Walters, Tonganoxie; Father and mother in law, Gayland and Tamara Guinn, Lawrence, KS; Father and mother in law, Neill and Bobbi Reichart, Alma, KS; one son, Braden McKinsey, of the home; two daughters, Alexis Guinn and Baylee Whitson, both of the home; two brothers, Mark Walters, Lansing, KS, Ray Walters, Shawnee, KS; four sisters, Denise Evans, Kansas City, MO, April McKinsey, Olathe, KS, Millie Bush, Milwaukee, WI, Megan Crawford, Shawnee, KS.
The family suggests memorials to "Brandon's Children Education Fund" C/O First State Bank and Trust.
Please sign this guestbook at Obituaries.LJWorld.com.