Deborah Jean Marshall-Fleming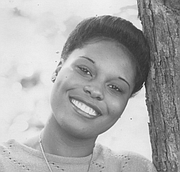 Deborah Jean Marshall-Fleming passed away on Dec. 4, 2014, at age 52 surrounded by her family. Deborah was born in Blytheville, AR, the oldest of five daughters. Her family moved to Tonganoxie in 1975, and Deborah instantly fell in love with the countryside. After graduating from Tonganoxie High School, she attended Kansas State University. Deborah studied performing arts, which led her to a life of acting, writing and producing plays that centered on her greatest love, Jesus. Deborah's greatest passion was being a mother to her three sons: Kent, Booker T. (Danielle) and Emmanuel Fleming whom survive her. She is also survived by her parents Booker T. and Ella Marshall of Tonganoxie; sisters and brother-in-laws Janice White (David) of Tonganoxie; Beverly Marshall-Cook (Derrick) of Lenexa; Latrese Kabuya (Olivier) of North Kansas City; Daneeka Marshall-Oquendo (Lawrence) of Olathe; and three grandsons along with a host of nieces and nephews. Services will be held on Friday, Dec. 12, at Oak Ridge Missionary Baptist Church located at 9301 Parallel Parkway, Kansas City, KS. The viewing is from 9 to 11 am with the service immediately following. Flowers can be sent to the church and donations can be sent to the Deborah Marshall-Fleming Memorial Fund at Tonganoxie First State Bank and Trust.
Please sign this guestbook at Obituaries.LJWorld.com.