Joseph Bernard Sample, Jr. 1920 - 2014 McLouth, KS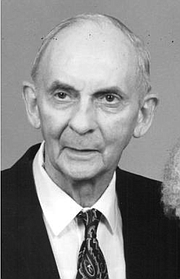 Joseph Bernard Sample, Jr., 94, of Garnett, formerly of McLouth, died Sunday, November 23, 2014 at Guest Home Estates in Garnett. He was born August 7, 1920 at Jarbalo, the son of Joseph B. and Rosa Minnie Hitzeman Sample, Sr. He worked at the Kansas University Student Union as a bowling alley mechanic, retiring in 1982 after 26 years of service. He also served as a custodian at the Bank of McLouth and the McLouth United Methodist Church for many years. He was a member of the McLouth United Methodist Church and was a U.S. Army Veteran of WWII. He was married to Helen Miriam Williams on December 1, 1944 in Kansas City, KS., she preceded him in death on June 2, 2007. He is survived by two sons, Roger E. (Sandy) Sample, Garnett, Robert L. (Rhonda) Sample, McLouth, six grandchildren, Renee Gregory, Rayna Prather, Ricki Sample, Rachel Hoover, Joseph Sample and Erin Washington and 12 great-grandchildren. He was preceded in death by a brother, LeRoy Sample. Funeral Services will be at 2:00 PM, Wednesday at McLouth United Methodist Church. Burial will be at McLouth Cemetery. Mr. Sample will lie in state after 11 AM, Wednesday at the Church where a Visitation will be 1:00 to 2:00 PM before the Service. Memorials may be made to the McLouth United Methodist Church in care of Barnett Family Funeral Home, P.O. Box 602, Oskaloosa, KS. 66066. www.barnettfamilyfh.com
Please sign this guestbook at Obituaries.LJWorld.com.