Lillian Mae Swann (Perkins)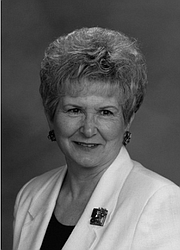 Lillian Mae (Perkins) Swann of Barboursville / Milton, WV joined her Lord and loved ones who preceded her on May 29. She was surrounded by her family, and her devoted caregivers and friends at Brandon Woods at Alvamar, Lawrence KS. Lillian was the daughter of the late Estell Herman Perkins and Ella Forrest (Bias) Perkins. She was preceded in death by her beloved husband, Harold Denver Swann, her parents, and her brother, Ray Bias. She is survived by her devoted children, Crystal Swann and Dirk Blackdeer (Tonganoxie, KS), H. David and Margie Swann (Pine Village, IN), grandsons David Raymond Swann (Lansing, MI), and Jeff, Jason & Jon Mace and their families (Plainfield and Indianapolis, IN). She is also survived by many United Daughters of the Confederacy sisters.
Lillian was a teacher, a nurturer, a fun and encouraging mom, grandma, aunt, sister and friend. She delighted in seeing others thrive. She taught kindergarten and children with special needs. She loved to create and to bring beauty to life with her cakes, crafts and gardens. Lillian was a joyous singer and dancer. She was a voracious reader and loved to travel. Her inexhaustible curiosity and family loyalty led her to extensive genealogical research that will serve others for generations to come. Lillian was a kind, gentle, and generous soul, who was truly braver than she believed, stronger than she seemed, and smarter than she imagined. Arrangements are entrusted to Wallace Funeral Home in Barboursville, WV. Visitation will be from 6 to 8 PM on Thursday, June 5. Celebration of Life will be led by Reverend Allen Stewart at Wallace Funeral Home at 3 PM on Friday, June 6, with burial immediately following at White Chapel Memorial Gardens, Barboursville, WV.
Those who desire may make memorials to Milton (WV) Baptist Church, UDC Chapter 2580 (Border Rangers), or to the Blake Library of Confederate History at Marshall University, or to a charity of choice.
Please sign this guestbook at Obituaries.LJWorld.com.