Russell G. Haring 1924 - 2014 Tonganoxie, KS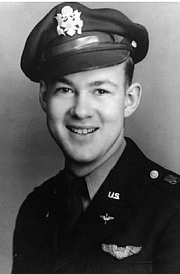 Russell G. Haring, 90, Tonganoxie, KS, passed away Tuesday, May 27, 2014.
Funeral service was 10 a.m. Friday, May 30, 2014 at Quisenberry Funeral Home, Tonganoxie. Burial was in Hubbel Hill Cemetery.
Russell was born on April 6, 1924, the son of Gilbert and Adah (Benham) Haring in Clinton, Iowa. He married Ruth (Peck) Haring on October 3, 1943. They were married 53 years until her passing in 1996. He is also preceded in death by his parents and a granddaughter, Laura Ann Larson. Russ was an Army Air Corp veteran of WWII. He was a B17 pilot, flying over 30 bombing and photographic missions. He also served in the Korean War, both in combat and non-combat roles. After his military service, he was a general superintendent in the commercial construction industry. He was in charge of several large projects, including the Hallmark Distribution Center in Liberty, MO, several large schools and the KCK Public Library. He retired from construction at the age of 50 to pursue his first love, farming, and continued to actively farm well into his 80's. Until his death he advised and assisted the family with farming. In his free time he enjoyed playing poker with his buddies, maybe because he almost always won.
Survivors include his three daughters, Linda (Kenny) Forsberg, Conny (Don) Young and Pat (Jerry) Larson; 9 grandchildren, 14 great grandchildren; sister, Eleanor (Dick) Barak and his longtime companion, Joyce Wentz.
Memorials are suggested to the National WWII Memorial or Lawrence Memorial Hospital Palliative Care, c/o Quisenberry Funeral Home, 604 E. 4th St., Tonganoxie, KS 66086. Condolences may be left for the family at www.quisenberryfh.com .
Please sign this guestbook at Obituaries.LJWorld.com.