John B. Sloan 1927 - 2014 Forsyth, MO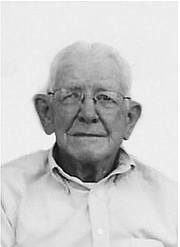 John B. Sloan, 86 of Forsyth, MO died Tuesday, March 4, 2014 at his residence. He was previously a resident of Leavenworth County for 78 years. A Celebration of Life gathering will be held from 2:00-4:00 p.m. Saturday, March 29 at the High Prairie Church, 26480 187th St, Leavenworth KS.
John Ben Sloan was born Sunday, April 17, 1927 in Leavenworth, KS to Fred Milton and Adele (Murphy) Sloan. He attended school in Leavenworth and graduated from Leavenworth High School in 1944. In 1949 he met Marguerite Bayles at a dance in Leavenworth. They were married November 3, 1951 in Leavenworth. Together they operated the Rainbow Hill Farm where they raised crops and cattle. John was very active in the community in various groups and organizations. He was a member of the Boling 4-H Club; 4-H Project community leader, Kansas Rural Youth Organization, Hazel Dell School District #79 Board Clerk, Leavenworth County Soil and Crop board, Leavenworth County Fair board, Community ASCS Committeeman, Leavenworth County ASC Committee, High Prairie Town Clerk, Leavenworth-Jefferson Electric Co-op Director and Chairman, Little Stranger Christian Church Board, High Prairie Cemetery Board, Leavenworth County Farm Bureau President, Leavenworth Saddle Club, Buffalo Bill Saddle Club, Leavenworth County Extension Board, Leavenworth County 4-H Council and a member of the First Methodist Church in Leavenworth.   John retired from farming in 1993. He and Marguerite moved to Forsyth in 2006.
His achievements included an appreciation for his service on the Solid Waste Management Committee in High Prairie Township, National Rural Electric Coop, Assoc. Credential Cooperative Director Program, Certificate of Recognition as a Kansas 4-H Project Leader, Farm Family of the year 2005, recognition of service to Farm Bureau 1975 County Man Leader of the year, Rookie of the year award for outstanding sales with Trojan Seed Company, Appreciation award for 12 years service to Leavenworth Jefferson Electric Coop 1987-1999 and appreciation award for Leavenworth ASCS office.
John's contagious laughter endeared him to everyone who knew him. His joking, likeable and caring personality exemplified his existence. He enjoyed gardening, photography, 4-wheeling, farming and his grandchildren.
He is survived by his wife, Marguerite of Forsyth; two sons, Jim Sloan and wife, Theresa of Lawrence, KS, Bill Sloan and wife, Cheryl of Bonner Springs, KS; two daughters, Carolyn Evers and husband, Roger of Lawrence, KS, Rhonda Bowman and husband, Bob of Forsyth, MO; a brother, Charles Sloan and wife, Marilyn of Anchorage, AK; two sisters, Marianne Bruner of Omaha, NE, Martha Daniels of Bakersfield, CA; sister-in-law Alice Sloan of Hiawatha, KS; brother-in-law and sister-in-law, David and Linda Bayles of Tulsa, OK; five grandchildren, Aaron Gaddis, Michelle Bowman, Leah Gaddis, Tara and Tiffany Sloan; two great-grandchildren, Maliyah and TaMarkus Holmes.
He is preceded in death by his parents; four brothers, Billy, Leland, Bob and Jim Sloan; one sister, Estelle Edwards.
Memorial contributions may be sent to the High Prairie Church (address above) or to The Little Stranger Church Preservation, 26374 Tonganoxie Rd., Leavenworth.
Please sign this guestbook at Obituaries.LJWorld.com.