Valma Marie Newell McAferty 1934 - 2014 McLouth, KS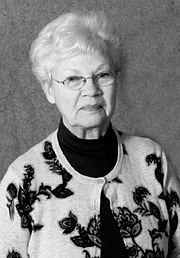 Velma Marie Newell McAferty, 79, of McLouth, died Tuesday, September 30, 2014 at Lawrence Memorial Hosipital. She was born on October 31, 1934 in Oskaloosa, the daughter of Valentine Dixon and Grace Elva Hudson Newell. She was a 1952 graduate of Oskaloosa High School. A homemaker and mother, Velma served as school secretary at the McLouth Elementary School for 20 years, retiring in 1998. She had formerly worked at the Shawnee County Courthouse. She was a member of the McLouth United Methodist Church and the Order of Eastern Star Rinda Chapter # 82 in Tonganoxie. She was married to Elmer Ellsworth "Salty" McAferty on August 22, 1953 in Oskaloosa, he preceded her in death on September 22, 2013. Survivors include two sons, Mike McAferty, Phoenix, AZ, Steve (Deb) McAferty, McLouth, two daughters, Sandra (Mark) Nowasell, Tonganoxie, Tina (Ronnie) Beach, Oskaloosa, two brothers, Fred (Mary) Newell, Frank (Karen) Newell, both of Oskaloosa, eight grandchildren, Krishna (Luke) Hattemer, Jacob (Amanda) Beach, Zach Beach, Brooke Beach, Alex (Claire) Nowasell, Joshua (Danielle) Nowasell, Nick McAferty and Monica McAferty, three great grandchildren, Cale Hattemer, Asher Ellsworth Hattemer, and Pryce Hattemer. She was preceded in death by two brothers, Art and Bud Newell, and a sister, Helen Mae Newell Stevick.
Funeral Services will be 10:00 AM, Friday at the McLouth United Methodist Church. Burial will follow at McLouth Cemetery. Visitation will be 6:00 to 8:00 PM, Thursday at Barnett Family Funeral Home (1220 Walnut/Hwy 59) Oskaloosa. Memorials are suggested to Cale's Cause or the McLouth United Methodist Church and sent in care of the Funeral Home, PO Box 602 Oskaloosa, KS., 66066. www.barnettfamilyfh.com
Please sign this guestbook at Obituaries.LJWorld.com.