Jane Marie Berry Tonganoxie, KS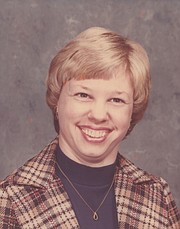 Jane Marie Berry, 66, died September 16, 2014 at home in Tonganoxie with her husband John by her side. The family will received visitors at Quisenberry's Funeral Home Thursday, September 18. Funeral services were be held at Quisenberry's Funeral Home on Friday, September 19.
Jane was the daughter of Ernie and Dorothy Cashatt of Ozawkie, Kansas. On July 4, 1970, she married John Berry of McClouth who continues on in Tonganoxie. Jane loved Tonganoxie and was most frequently found at the local baseball fields taking photos for the Tonganoxie Recreation Commission.
Jane's husband John Berry of Tonganoxie, brothers John Cashatt of Beloit and Jim Cashatt of Kansas City, son and daughter-in-law James and Chris Berry of Leavenworth, sons Paul Berry of Springfield and Patrick Berry of Topeka are all thankful for the life she lived and gave to her friends and family.