Ruth Jean Cooper 1922 - 2015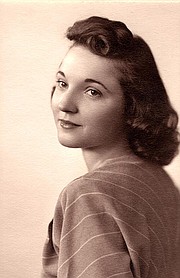 Ruth Jean Cooper passed away peacefully on November 27, 2015, at her home in Tonganoxie, Kansas at the age of 93. She was surrounded by her loving husband, daughters and son.
Ruth was born in Tacoma, Washington, daughter of Ruth May Whiteman O'Dell and Norman O'Dell on March 24, 1922. Later her mother moved with Ruth to Wisconsin where she married Louis F. Smith. They lived on a dairy farm in Hale's Corner, Wisconsin. Ruth Jean had two brothers, Jack and Louis Jr., and three sisters, Edie, Shirley and Blanche. At age 14, Ruth lost her mother to illness and had to take over caring for her father and younger siblings.
Ruth attended the one-room Whelan School in Hales Corner until her 8th grade graduation. She later attended business school in Michigan, where she met George Lawrence Cooper in 1940. In 1942, they married in Oklahoma City as George began pilot training for World War II. Through the war years, Ruth raised her daughter, Priscilla, while living with family in Wisconsin and Washington. After the war, the couple made their home in Lawrence, Kansas, while George finished his engineering degree at KU. They raised their family of five girls and one boy in Johnson County, Kansas, until moving to their farm in Tonganoxie, Kansas in 1970.
Ruth was active in Sertoma, a guild member of the First Congregation Church, a volunteer for the Good Shepherd Thrift Store, Treasurer for the Tonga Winners Investment Club and a charter member of the Tonganoxie Community Historical Society. She was a fabulous cook, lover of biographies and all things British.
She is survived by her husband George, six children: Priscilla (Carl) Bailey of Tonganoxie, Georgeanne (Jon Baker) Cooper of Eugene, Oregon, Merrilee (Ted Frederickson) Cooper of Tonganoxie, Cathy (Wayne Ranovish) Cooper of Eugene, Oregon, Laurie (Greg) Putthoff of Tonganoxie, and Kevin (Amy) Cooper of Lansing; 15 grandchildren, 22 great-grandchildren and 3 great great-grandchildren.
A memorial service will be held on Saturday, December 12th at 11:00 am at the First Congregational Church of Tonganoxie, Kansas, followed by fellowship and refreshments. Mrs. Cooper was a member of the Kansas Cremation Service. Online guestbook and obituary at www.kansascremation.com.