Roy Salmon 1925 - 2015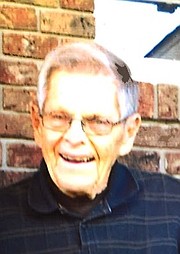 A memorial service for Roy Salmon will be held on Sunday October 11, 2015 at 3 pm at the Historical Reno Methodist Church in Tonganoxie, Kansas.
Mr. Salmon died June 1, 2015 at the age of 89 in Bedford, Texas. He was born November 8, 1925 in St. Ives Cornwall, England to Wilfred (Bill) and Gladys Salmon. He came to live in Tonganoxie at the age of 2 and resided there for 87 years.
He graduated from Tonganoxie H.S. in 1943 and proudly served in the U.S. Navy during WWII. After his discharge in 1946, he married his wife of sixty-two years, Geraldine (Jerry) Salmon.
He owned and operated "Salmon Service" in Tonganoxie, served on the Tonganoxie City Council and gave 45 years of service to the Tonganoxie Fire Department.
Roy is survived by his son, Ron Salmon and wife Kathleen of Wrangall, Alaska; daughter Kathleen and husband (Ron) of Bedford, Texas; five grandchildren: Jeff (Heather) Salmon, Dan Salmon, Kyle (Haley) Salmon, Rachelle Enax , Tiffanie (Chad) Morrow and ten great grandchildren.
Mr. Salmon was preceded in death by his wife, Geraldine, his parents, Wilfred and Gladys Salmon; his brother Gerald Salmon; and his great granddaughter, Lexie Salmon.
The family suggests memorial contributions be made to a charity of your choice.