Betty Lou Nelson 1921 - 2017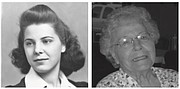 Betty Lou Nelson (nee' Wiley), age 95, was surrounded by family and passed peacefully into Eternal Life on Friday, January 27, 2017. She is survived by the love of her life, Warren Bryant Nelson, her husband of 72 years.
Betty was born to Norman Earl Wiley and Stella Bernice (Bowman) Wiley on December 16, 1921 in Tonganoxie, Kansas. She met Warren at Kansas State University, where she studied Home Economics and graduated in 1943. Warren graduated in 1942 and enlisted in the Army Air Corps. They married at her parents' home in Tonganoxie on Christmas Eve 1944, while Warren was on leave.
Betty is survived by three of her four children: Barbara Ann Goldman, Marcia Nelson Wilson (William) and Robert Warren Nelson (Rev. Barbara Heck). Betty's son, David William Nelson, predeceased her when he was killed in the World Trade Center tragedy on September 11, 2001, leaving wife Elizabeth Crawford and two children.
Betty and Warren have seven loving grandchildren: Paul Wagner (Ainee), Christopher Wilson (Hailey Mathison), Jordan Wilson (Rachel), Ingrid, Arthur, Frederick and Eric Nelson; they have two great-grandchildren: Sinalei and Penelope Wagner.
The eldest of eight children, Betty was predeceased by her brother Norman Earl Wiley Jr., and sisters Doris June Salmon, Geraldine Salmon, Barbara Pearl Wiley, and Margaret Mary Shockley. Surviving siblings are Joan Marie Sanders (James) and Carol Maxine Slawson (Edward). Also surviving are many much­loved nieces, nephews and friends.
Special thanks to the staff at Sunrise Senior Living Center of Des Peres and Kindred at Home Hospice, especially Tally Crosby, RN and The Reverend Jeanne Zimmerman.
We celebrated Betty's life on Tuesday, January 31, 2017 at Trinity Lutheran Church, where she was a member for over 60 years. Betty packed the church with long­time friends from Trinity, from Kirkwood and the St Louis community and family from Kansas, Hawaii and Texas. She was buried in a private service at Jefferson Barracks National Cemetery on Tuesday afternoon. Our family especially thanks Pastor Zachary Sturm.
Donations in memory of Betty Lou Nelson may be made to Trinity Lutheran Church, 820 Lockett Rd, Kirkwood, MO 63122 or Kindred at Home Hospice 2055 Craigshire Road, St. Louis, MO 63146.
Betty lived and laughed and loved and left. And the world will never be the same.