Linda Sue Hoppe Olathe, KS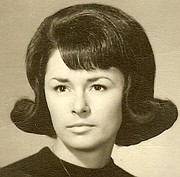 Linda Sue Hoppe, 68 years old, of Olathe, Kansas passed away after a long battle with medical issues at the Hospice House in Olathe, Kansas on December 9th, 2016.
Linda was born in Leavenworth, Kansas to the parents of Lulu Myrtle Swope and Cecil St. Patrick Swope. She was raised in Basehor, Kansas along with her five brothers and two sisters. She graduated from Basehor High School. She was a devoted and loving mother, grandmother and great­grandmother.
Linda is survived by two of her seven brothers and sisters; Arthur Wayne Swope and Paul Leslie Swope. Three children; Karey Lynn Sneed, John Scott Hoppe and James Patrick Hoppe. Five grandchildren; Brandon Michael Heldstab, Ashleigh Nicole Heldstab, Jeremy Dean Heldstab, Amanda Marie Jacobsen and Chelsea Paige Hoppe. As well as two greatgrandchildren; Hayden Christopher Atkins and Wyatt Dean Heldstab.
Linda was preceeded in death by her parents' Lulu Myrtle Swope and Cecil St. Patrick Swope and the following sisters and brothers; Betty Louise Buchanan, Richard Allen Swope, Cecil Leroy Swope, James Allen Swope and Shirley Jean Swope.
A Memorial Service will be held to celebrate her life on January 7th, 2017 from 2:00pm­-4:00pm at the Penwell­Gabel Funeral Home, 14275 South Black Bob Road, Olathe, Kansas 66062.
The family requests that in lieu of flowers, donations be made to the Hospice House, 15310 South Marion Street, Olathe, Kansas 66061 or Good Samaritan Center, 20705 W 151st Street, Olathe, Kansas 66061.
A special thank­you from her children to the caring staff members of both the Good Samaritan Center and the Hospice House, both in Olathe, Kansas, for the wonderful care that was given to their mother.