Karla Sue Barnett 1954 - 2017 Tonganoxie, KS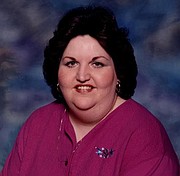 Karla Sue Barnett, 63, Tonganoxie, KS, passed away May 29, 2017, at the Tonganoxie Nursing Center.
Memorial service will be 10:30 am Saturday, June 24th at the Tonganoxie United Methodist Church. The family will receive friends 6­-8pm Friday, June 23rd at the Quisenberry Funeral Home. The family suggests memorial contributions in lieu of flowers to the Muscular Dystrophy Association (https://www.mda.org/) and/or Special Olympics (http://www.specialolympics.org/).
Karla was born January 18, 1954, in Lawrence, KS, the daughter of Elmo P. and Juanita "Peggy" Rose (Thomas) Blackwell. She worked as a Teacher's Assistant and a caretaker for the disabled. She was a past member of the Tonganoxie Methodist Church as well as the North Rock Baptist Temple in Topeka, KS. She was preceded in death by her parents, her brother, Elmo Kirk, and sister, Linda (Dale) Smith.
Survivors include: two sons, Derek (Luci) Barnett, Lenexa, KS, and Jared Barnett, Shawnee, KS; one sister, Cheryl (Pat) Sparks, Tonganoxie; two grandchildren; and many nieces and nephews.