Mildred Elizabeth McMillon Tonganoxie, KS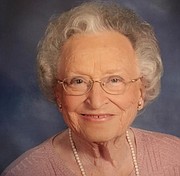 Visitation for Mildred (Greene) McMillon, 89, Tonganoxie, KS, will be Sunday, March 19 from 6pm to 8pm at the United Methodist Church in Tonganoxie, KS. Funeral services will be at United Methodist Church on Monday, March 20 at 10:30am and graveside at Maple Grove Cemetery. Lunch will be served at the Church following the services.
Mildred was born in Sumter County, Americus, Georgia, on August 27, 1927. Mildred (Mom, Millie, Nana or Nan) was one of seven children born to Hazel (Bridges) Greene and William Lively Greene. She survived the Great Depression as well as World War II. She graduated from Americus High School and attended Georgia Southwestern College. She met the love of her life, Charles P. (Pete) McMillon, at Souther Field in Americus during World War II where he was a training instructor for the Army Air Corps.
Mildred married Pete in 1944 and moved around the country – from Washington D.C. to Delaware to Kansas City – with Pete's job at TransWorld Airlines (TWA) ­ finally settling in Tonganoxie in 1967. Pete and Millie owned Winsok Ranch in rural Tonganoxie and had many visitors to their Ranch to fish. They also spent fun times at their place at Lake of the Ozarks.
Always active in the community, Mildred decided to run for the local school board when Pete retired in 1980. She served 11 1⁄2 years on the local school board, serving as President five times, before running and being elected to the Kansas State School Board, where she served for 12 years. After that, Mildred then served on the Tonganoxie School Board another four years before finally retiring in 2009. She was inducted into the USD 464 Hall of Fame in 2011.
Mildred was also very active with community activities and, to name a few organizations, was a member of the Tonganoxie United Methodist Church, Past President of the United Methodist Women, Chairman and active member of the Advisory Board of Leavenworth County Council on Aging, the Silver Haired Legislature, Advisory Board for the Juvenile Correction Board, Past President of the Leavenworth County Democrats Club, Member of the Kansas State Trap Shooters Association, Past President of Chapter AT­PEO of Tonganoxie, Past Matron of Sincerity Chapter #295 Order of Eastern Star, and the red­ hatters. She was also a member of the Peanut Brigade for the Jimmy Carter Presidential Campaign in 1976 and attended his inauguration festivities and the BBQ on the White House Lawn.
Even though she was a very accomplished lady, Mildred enjoyed her family the most and was very involved with all of their activities. Mildred is preceded in death by her parents Hazel and William; her husband of 59 years, Pete McMillon, an infant son, Dwight David McMillon and her brother Richard Greene. She leaves her two sisters, Grace Pace and Julia Neel (Leon), her 3 brothers, William Jr. Greene (Cheyanne), Jimmy Greene (Carey), and David Greene (Julie); two daughters, Mildred (Betty) Grey, Dr. Sandria Godwin­Vazquez (Francisco), three grandchildren, Jimmy Creten (Dawn), Jamie Clark (Tim), Bruce Godwin (Grace); nine great-grandchildren; Chandler Henke (Dyllan), Tanner Clark, Austin Godwin, Kim Aguilar, Robert Aguilar, Hope Creten, Faith Creten, Journey Creten, Jett Creten; one great great grandchild, Emerson Henke, another great great grandchild on the way, and dear friend and caregiver Peggy Corkins. Mildred will be remembered with much love and happiness!
The family suggests memorial contributions to the Tonganoxie United Methodist Church Endowment Fund, 328 East 4th Street, Tonganoxie, KS 66086.