Ronald William Wagner 1964 - 2017 Basehor, KS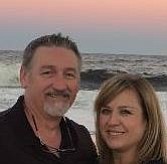 Ronald William Wagner, 53, Basehor, KS, passed away December 23, 2017 at Providence Medical Center.
Funeral service was 11 am Saturday December 30, 2017 at the West Haven Baptist Church, Tonganoxie. The family will received friends one hour prior to the funeral service at the church.
Ronald was born August 11, 1964 in McCook, NE, the son of Willis Oren, and Shirley (Jeffers) Wagner. He worked as the Vice President for Midstar Lab where he was employed for 20 years.
Survivors include; his wife, Kari Wagner, of the home; his parents, Willis O, and Shirley Wagner, Cambridge, MN; one son, Derrick Wagner, Tampa, FL; two daughters, Jennifer Belcher, Basehor, Kelsey Huber, Aberdeen, S.D.; two brothers, Dave Wagner, North Branch, MN, Randy Wagner, CA; and 3 grandchildren.
In lieu of flowers the family suggests memorials to the Ronald Wagner Memorial Fund.