Ann "Annie" Elizabeth Breuer 1934 - 2018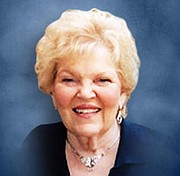 Ann "Annie" Elizabeth Breuer, age 84, of Basehor, Kansas passed away on Tuesday, November 20th, 2018. The Rosary will be prayed at 4:30 pm, Monday, Nov. 26 and the family will receive friends at a Visitation after it from 5- 8 pm, all at the church. Tuesday, Nov. 27, Mass of Christian Burial will be at 10 am at the church with burial to follow in Holy Angels Catholic Cemetery.
Ann was born on May 29, 1934 in Independence, Missouri and was the fourth of five children born to Edward & Genevieve (Rudd) Clark. Ann grew up in Independence and attended St. Mary Catholic Grade School. She married Ray Breuer in Bentonville, Arkansas and together they made their home in Basehor, where they raised their seven sons and operated their family Well Drilling Business. She was a longtime member of the Holy Angels Catholic Church. Ann enjoyed her flower garden, dancing, shopping, cooking for her family gatherings, but most of all, she enjoyed time spent with her children, grandchildren and great-grandchildren.
Ann was preceded in death by her parents, two siblings, James and Mary Jo, and one son, John Breuer. Survivors include her husband, Ray Breuer of the home, six sons; David Breuer and wife Cheryl, Allen Breuer, Dennis Breuer and wife Debra, William "Billy Bob" Breuer all of Basehor, Mike Breuer and wife Jane of Lenexa, KS., Jim Breuer and wife Cathy of Basehor, daughterinlaw Gwen Breuer of Tennessee, two brothers; Tom and Bill Clark, 21 grandchildren and 38 great-grandchildren.
Contact Alden-Harrington Funeral Home by phone: 913-422-4074