Mildred Julius Stevens, MD 1923 - 2019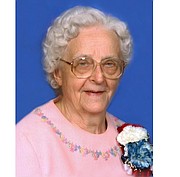 Mildred Julius Stevens,MD died peacefully in Garnett, Kansas, on April 20, 2019, one day before her 96th birthday. Mildred Irene Julius was born to Reverend Carl Anderson Julius and his wife Signe on April 21,1923. She was the third of five children.
Mildred Julius graduated from the University of Kansas in 1944 and the University Of Kansas School Of Medicine in 1947. She was elected as a junior to the Alpha Omega Alpha Scholarship Society. Dr. Julius was married to Robert Louis Stevens, MD on April 4, 1947. He precedes her in death.
Dr. Julius and Dr.Robert moved to Garnett in 1949, where they established their medical practice. Dr. Julius was a tireless family doctor who devoted her life to the medical and obstetrical care of Garnett and Anderson County for over a half century. Dr. Julius was a member of the United Presbyterian Church and served as an Elder for decades. On any given Sunday, she could be found leading the adult Sunday school classes.
Dr. Julius was a prolific amateur artist and writer who was generous in gifting her family and friends with her books and paintings. Drs. Julius & Stevens traveled around the world in 1962, attending the World Medical Society meeting in New Dehli, India. They also traveled Europe extensively with all five children in 1968. This opened their minds to a lifetime of adventure, travel and history. Dr. Julius served as a pioneer for the modern woman, practicing under her maiden name after marriage in 1947. She embodied higher education, professionalism and hard work. She encouraged and inspired all of her children to achieve post-graduate degrees with four medical doctors and a lawyer with an MBA. She inspired young women to pursue a medical career but not neglect their desires to have children and a family. She touched the hearts and lives of countless people. She lived her dream and made a difference. Five grateful children survive; Mildred Julius Stevens, MD; Laura Stevens Bryan, MD; Victor Stevens, MD; Rhoads Stevens, MD; Leah Stevens Waage, MD; and James David Stevens.Thirteen grandchildren and eight great-grandchildren also survive her.
Funeral services will beheld at 11:00 a.m., Friday, April 26, 2019, at Feuerborn Family Funeral Service, with burial following in the Garnett Cemetery. The family will greet friends one hour prior to the service at the funeral home.Memorial contributions may be made to Good Shepherd Hospice.Condolences may be sent to the family at feuerbornfuneral.com.