Dixie Dee Thompson Derzinski 1942 - 2020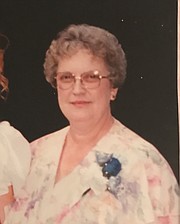 Dixie Dee Thompson Derzinski was born on Feb.16, 1942 in Santa Rosa, Missouri to Ben and Anna Beatrice Thompson. She passed Feb. 4, 2020 in Eudora, Kansas.
She married Ronald Derzinski Jan. 23, 1969. He preceded her in death.
She lived in Tonganoxie, Kansas from 1978 until 2004.
She is survived by six children, Ron Miller, Dan and Velvet Miller of Tonganoxie, Jay and Brenda Miller of Basehor, Janet and Rick Hunt of Kansas City, KS, Mike and Becky Derzinski of Tonganoxie and Lisa and Robert Patterson of Tonganoxie.
She is survived by grandchildren Nicole, Amy, Amber, Ashley, Hillary, Megan, Scott, Michael, Rick, Brandon, Krystal, Maggie, Joe, Jon, Jake, Emmie, Robby, Grace, Audrey and Milena and many great grandchildren and one great-great grandchild.
The family will host a memorial service on Saturday, Feb. 15 at 10:30am at West Haven Baptist Church in Tonganoxie. A meal will be served following the service.
In lieu of flowers, the family request donations to West Haven Baptist Church or Tonganoxie Christian Church in the name of Dee Derzinski.