Joshua Smithey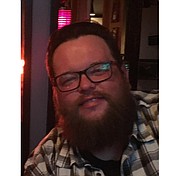 Joshua Smithey, 38, Tonganoxie, KS, passed away August 10, 2021 at Lawrence Memorial Hospital.
The family will gather and receive friends 4¬6 pm Saturday August 21, 2021 at the Quisenberry Funeral Home, Tonganoxie. Following the visitation, the family requests everyone to meet at the Village Venue, Tonganoxie. Across the street to the west of the Quisenberry Funeral Home to share stories, and food.
Josh was born June 22, 1983 in Kansas City, KS, the son of H.C. and Annie (Eason) Smithey. He graduated from Turner High School in the class of 2002. Josh had a huge passion for music. He played the drums and was a member of several bands over the years, the "Turner High School Jazz band", the band "Silence", "Third World Sin", "Ted Bundy Love Connection", "Tiananmen Square", "Fat Camp Success Story", "Smash the State", and currently was playing in "The 909". He was united in marriage to Jennie (McCutchen) Smithey on September 23, 2017 in Tonganoxie, KS. She survives of the home.
Other survivors include; three brothers, Timmy Smithey, Merriam, KS, Zach Smithey, Kansas City, KS, Barrett Smithey, Kansas City, KS; one sister, Kayla Smithey, Bonner Springs, KS; 7 nieces and nephews and many friends and other family who loved him.
Contact Quisenberry Funeral Home by phone: 913-845-2740