Larry Dean Coffin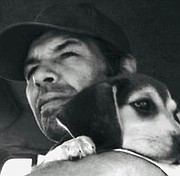 Larry Dean Coffin (60) from McLouth, Kansas, passed away Friday, Aug. 13 at his home, surrounded by his children and wife of 38 years.
The family will receive friends 6-¬8 p.m. on Aug. 18 at the Quisenberry Funeral Home. Funeral services will be held 11 a.m. on Aug. 19 at the funeral home. Burial will be in Fall Creek Cemetery in Leavenworth, Kansas.
Larry was born July 2, 1961, in Leavenworth, Kansas, the son of Charles Lyle and Jennie (Wiley) Coffin. He was united in marriage to Kim Henak in 1983. Larry was born a dairy farmer, first working on his family farm until he took over in 1997. In 2000, Larry started an excavating business, which his youngest son Wyatt now owns after Larry decided to get back into the dairy business. The dairy was his first love.
He is survived by his wife, Kim; his three children, Cassidy Courter, of Wellsville, Kansas, Colt Coffin, of Chicago, Illinois, and Wyatt Coffin, of McLouth; three brothers Ronald Coffin, of Valley Falls, Kansas, Donald Coffin, of McLouth, Kansas, Dale Coffin, of McLouth, Kansas; two grandchildren; and his mother, Jennie, of Leavenworth.
There wasn't a person that couldn't be charmed by Larry's smile, his jokes, and his kind heart.
Memorial donations may be made to the Tonganoxie High School wrestling program in care of Quisenberry Funeral Home.
Contact Quisenberry Funeral Home by phone: 913-845-2740