Timothy William Stark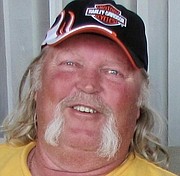 Timothy "Tim" William Stark died after a complex surgery and a long battle with his heart at Tucson Medical Center on February 3rd, 2021 in Tucson, AZ at the age of 67.
Tim was born on July 25th, 1953 in Emmetsburg, IA to Nila Jean Stark (Vanderhoff) and Bobby Keith Stark. He graduated from Horton High School and went on to live his life full of laughter, loyal friendships and complex relationships. Tim really enjoyed his relationship with his siblings and had so much fun teasing all of them any chance he had! His main career was a Superintendent with Berkel & Co. for over 25 years in total, owned and operated Stark Fence Co in Winchester, KS and also owned and operated T's Hilltop, Tonganoxie, KS. Tim decided to finally settle in Tucson, AZ in June 2019 to be near his Son Christopher Stark and companion Susan Kramer after his retirement with Berkel & Co in Houston, TX. After moving to Tucson he valued his time with his only 2 grandchildren and his long¬time companion Susan Kramer. Tim's sense of humor, kind spirit and vibrant life style will be missed by many.
Tim is survived by his mother Nila Jean Terry of Winchester, KS, his only son Christopher Stark of Tucson, AZ, 4 siblings Pam Pearson (sister) of Albuquerque, NM, Barbra Garner (sister) of Emporia, KS, Norma Reel (sister) of College Station, TX and Charles Terry (brother) of Winchester, KS, 2 grandchildren Cole Stark and Canyon Stark of Tucson, AZ and companion Susan Kramer of Tucson, AZ. He is preceded in death by his Father Bobby Stark, stepfathers Cliff "Slim" David Terry and Ray Woods and his brother Todd Stark.
Funeral services scheduled for 11am Saturday, February 12 at the Crossroads Cowboy Church in Perry, KS with a small reception to follow. Visitation will be Friday 6¬8PM at the funeral home in Oskaloosa. Barnett Family Funeral Home is assisting the family with arrangements. Visit barnettfamilyfh.com to leave online condolences.