Rochelle Cherokee Gist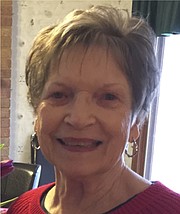 Rochelle Cherokee Gist (Tovey) went to be with her Lord and Savior, Jesus Christ, on November 2, 2021. Rochelle was born January 20, 1936, in Coffeyville, Kansas to Frank and Pearl Tovey. She was the youngest of six children.
Rochelle was the wife of James (Jim) Gist, Springfield, MO for 58 years. They were married in Wichita, KS. And were members of Countryside Christian Church, Wichita, KS., First Christian Church, Tonganoxie, KS and most recently Second Baptist Church, Springfield, MO, and Chino Valley Community Church, Chino Hills, CA.
Rochelle and Jim shared a family of six children, Teresa Lynn (deceased), Kristi Rae (Barefoot), married to Stan of Ft Myers, FL, Sharon Dawn (Brown), married to Scott of Adair Village, OR, Christopher Bradley Gist, married to Mattie of Camarillo, CA, James Travis Gist, married to Jane of Gilbert, AZ & Kelley Renee(Bales), married to Kevin of Plummer, ID.
Rochelle served her family at home, through her care and joy to work at home, and being available to be their fan at sport events, cheerleader at school functions, and cooking the most delicious food. She served her church beginning with Youth Ministries, trips, camps and all nighters. She was a helpmate to her beloved husband, Jim, who was at her side during many health crisis, and even as she passed into glory.
Rochelle was Grammy to 17 grandchildren, Andrew, Caleb, Seth, Shane, Skylar, Hannah, Jessicah, Shainah, Josiah, Tatum, Titus, Tessa, Tanner, Katey, Sarah, Ally, Rachel. She also had 9 Great Grandchildren: Reese, Reagan, Rowan, Taj, Declan, Mila, Emily, Rhodes and Turner. They all loved her and have the best 'Grammy stories'. Rochelle's celebration of life and the blessings from God will be held at a Memorial Service later in 2022 in Wichita, KS. The family asks that you reach out to them and share your memories of Rochelle's life through this email address. kristi.barefoot@gmail.com.