Carol Lee Stouffer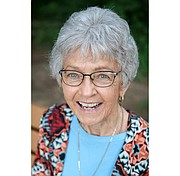 Carol Lee Stouffer, 82, Basehor, KS daughter of Rollie and Wilma (Kitty) Vanlaningham passed on to heaven peacefully and surrounded by her family on November 11, 2021, at Country Place Senior Living. Funeral service held at 10:00 am Saturday, November 20th at West Haven Baptist Church, Tonganoxie, KS.
Carol was born December 30, 1938, in St. Francis, KS. She was a graduate of St. Francis High School and Colby Community Junior College. Her passion in life was to share the good news of the virgin birth, death, and resurrection of her Lord and Savior, Jesus Christ. She enjoyed attending bible study and worship service with her close friends at West Haven Baptist Church.
She had a gift for entertaining, cooking and making everyone feel special and loved. She took considerable pride in her five grand children and sixteen great grand children and cherished spending special occasions together.
Carol is immediately survived by her beloved son, daughter, and their families. Son Blake Waters, daughter Jeana and Kevin Penny, grand children Nate and Erin Waters, Sarah and Michael Beardslee, Noelle and Bryan McLaughlin, Abbey and Justin Pikul, Cameron, and Kahlee Penny and sixteen great grandchildren.
Memorials suggested to the West Haven Baptist Church.