Leona M. (Kuhn) Keller Tonganoxie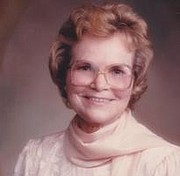 Leona M. (Kuhn) Keller of Tonganoxie (formerly Great Bend) died October 5, 2021 at McCrite Plaza in Topeka, KS. Leona (Lonnie) was born at home in Ellis, Kansas the daughter of Anton and Rose (Younger) Kuhn. Lonnie was the 11th of 17 children. She attended Springbrook country school in Ellis.
On May 3, 1948, Lonnie married Stephen B. Keller of Altoona, PA at St. Mary's Catholic Church in Ellis, KS. Lonnie and Steve eventually settled in Great Bend, KS where Lonnie was an elementary school teacher at St. Patrick's and St. Rose Catholic Schools. Lonnie retired as a special needs teacher with HOPE, Inc. (Help Other People Exceed.)
In 2013 Lonnie and Steve moved to Tonganoxie, KS to be closer to family. She was a member of Sacred Heart Catholic Church.
Lonnie remained very close to her brothers, sisters, nieces and nephews and had a special place in her heart for her grandchildren and great grandchildren. She loved cooking and entertaining family and friends. Lonnie was much loved by all and will be greatly missed. Lonnie made everyone feel welcome, special, and part of the family. Lonnie enjoyed crafting, especially painting, woodcarving and sewing.
Lonnie was preceded in death by her parents, infant daughter, Rebecca Ann Keller, 6 brothers and 8 sisters. She is survived by her husband, Steve of the home, daughters, Yvonne Hoffman (Darel) Crowley, TX, Deborah Allen (Dean) Tonganoxie and Stephanie Thompson (Kirk) Topeka. Granddaughters, Kristen Price, Mandy Schroeppel, Danielle Elliott, Nicole Hinrichsen, Kristina Adams and 12 greatgrandchildren, brother, John Kuhn, Emporia and sister, Agnes Zwenger, Catharine.
Visitation will be at Sacred Heart Catholic Church in Tonganoxie on October 16, 2021, from 10:00 a.m. to 12:00 p.m., A rosary will follow with mass of Christian burial at 12:30 p.m. Burial will be at the Great Bend cemetery on October 18th at 1:00 p.m.
In lieu of flowers, memorial contributions can be made to Sacred Heat Catholic Church, 1100 West Street, Tonganoxie, KS 66086, or St. Jude Research Hospital, 501 St Jude Place, Memphis, TN 38105.
Sacred Heart Church requires masks be worn at all services.