Helen Marie Nelson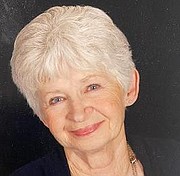 Helen Marie Nelson, 80, Tonganoxie, KS, passed away Wednesday March 23, 2022. A celebration of life will be 11 am Saturday April 23, 2022, at the Cornerstone Family Worship, Tonganoxie. The family will receive friends for 1 hour prior to the service.
Helen was born August 9, 1941, in Kansas City, KS, the daughter of William and Wilma (Bower) Tucker. She worked in all sorts of jobs over the years, but for the most part worked in management and secretarial positions. She was united in marriage to Richard Nelson on September 29, 1979, at the First Congregational Church in Tonganoxie. She had a deep love for her family and friends. She was a member of the Cornerstone Family Worship and was very active in the church. She loved her church family. She was preceded in death by her parents; and one granddaughter Brandi Doty.
Survivors include her husband Richard Nelson, of the home; four sons; four daughters; eighteen grandchildren; thirty-­four great­grandchildren; and three great greatgrandchildren.
The family suggests memorial donations in her name to the Cornerstone Family Worship.