Mildred Louise Friday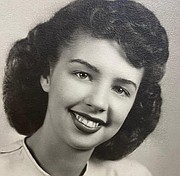 Mildred Louise Friday, 89, Tonganoxie, KS, passed away Thursday March 31, 2022, at the Medical Lodge of Eudora, KS.
Funeral service will be 11 am Thursday April 7, 2022, at the Tonganoxie United Methodist Church, Masks will be required. The family will receive friends for 1 hour prior to the Funeral. Burial will be in Glenwood Cemetery, Basehor, KS.
Mildred was born April 24, 1932, in Lawrence, KS, the daughter of Erby and Helen (Koch) Chancey. She was a 1950 graduate of the University of Kansas where she earned her bachelor's degree. She worked in the administration for J.C. Penny's Distribution Center. She was the oldest living member of the Tonganoxie United Methodist Church. Her daughter Amy Kittsmiller preceded her in death.
Survivors include two sons, John Friday, Tonganoxie, Eugene Friday Jr, Lawrence; one daughter, Rolynn McConas, Tonganoxie; nine grandchildren and nine plus greatgrandchildren.
In lieu of flowers the family suggests memorial donations in her name to the Tonganoxie Historical Society.