What is your favorite or most vivid memory from elementary school?
August 26, 2009
Gloria Brimhall ( in Tonganoxie) says...

I went through the first through the fourth grade and never really learned how to read. It turns out I was dyslexic, but at that time they didn't have a title for it. When I hit the fifth grade, I had a teacher named Mr. Schwick who looked how you would imagine Scrooge looking. But this man taught me how to read, he opened a whole world for me, so that's my most memorable experience. And I haven't stopped reading since.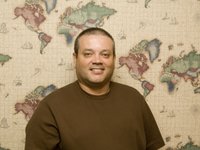 Robin Jones ( in Tonganoxie) says...

My most vivid, though definitely not favorite, memory had to do with the elementary school spelling bee. I was our class champion speller and advanced to the school finals, which were held in the gymnasium with students, teachers and parents watching. I received the word ballet, which normally would have been a slam dunk. When I walked to the microphone to speak in front of all those people, my brain was suddenly completely shorted out.
Austin Baragary ( in ) says...

My favorite memory from elementary school would have to be playtime. As a busy high school senior, playtime seems like it would be really relaxing now.