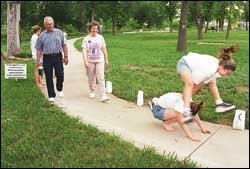 The Reusch VFW Memorial Park made a shady backdrop for Friday's
Relay for Life, an American Cancer Society fund-raiser. Larry and
Kathy Smith make their rounds as Becca Weston and Becky Dobbins
make their own rounds, leap-frog style. About 350 luminarias lined
the sidewalks of the park, purchased by donors to represent loved
ones who have had cancer.