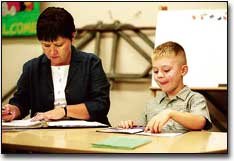 Braden Abramovitz, a first-grade Reading Recovery student, pauses
in concentration as he studies a word in a book he's reading aloud.
Deniece Wakeman, the Tonganoxie Reading Recovery teacher, makes
note of the words that Braden has a difficult time recognizing. She
then provides creative opportunities to help Braden practice
learning the pronunciation, spelling and meaning of the words. This
is the first year that Tonganoxie has had a Reading Recovery
program.