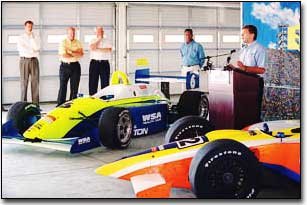 Adam Saal, public relations director for American Racing Series,
spoke at a Kansas Speedway press conference last Wednesday. To his
right is a Dayton Indy Lights racecar. Also pictured, from left,
are Jeff Boerger, Kansas Speedway vice president, Grant Lynch,
Kansas Speedway president, Roger Bailey, president and CEO of
Dayton Indy Lights, and Stann Tate, director of public relations
for Kansas Speedway.