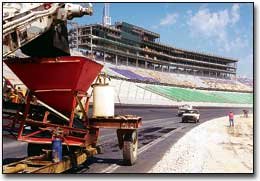 Driving toward completion of Kansas Speedway, workers are
installing the second layer of the asphalt track this week. Sunday,
the first layer of track received its first test drive by Indy
Racing Northern Light Series driver Billy Boat. Track officials say
that Boat, who drove an Indy car at speeds in excess of 130 mph,
was pleased with the quality of the track. Drivers will also check
the quality of the second and third layers of asphalt.