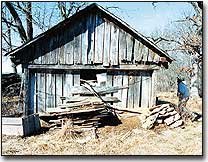 This cabin, about 18 feet wide by 20 feet long, is said to have
been built by the government for Delaware Indians in the early
1840s. About the only original part of the cabin is just below the
roofline, where the horizontal, hand hewn timbers with champer cuts
fit together. The cabin, on property belonging to John Lisson, is
about six miles southeast of Tonganoxie near Stranger Creek. Kerry
Holton, pictured, who farms the property, checks out the cabin.