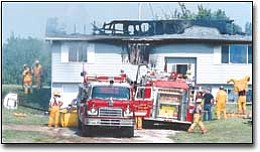 By the time firefighters were called to this home on Leavenworth
County Road 5, about three-fourths of a mile north of Dempsey Road,
it was fully engulfed in flames. Fire officials say the fire, which
started Monday afternoon, was caused by a faulty electrical outlet.
the home was a total loss, officials said. For more about the fire,
see page 3A.