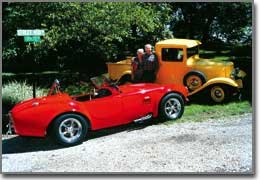 Pete and Irene Tork stand beside two of their vintage vehicles. The
1965 Shelby Cobra replica they built from a kit and the 1934 Ford
pickup they completely refurbished prove their mechanical
expertise. Irene, a retired nurse, works on the cars alongside her
husband. Pete is a retired TWA aircraft mechanic.