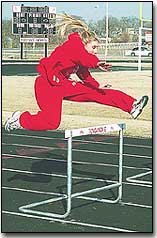 Kelly Breuer, freshman hurdler, goes through an early season work
out Friday at practice. Because of the unseasonably cold weather
that blew in at the beginning of March, Friday was one of the few
days the team could practice outside. The softball and baseball
teams have been kept indoors even more than the track team because
they have to wait for the fields at the Leavenworth County
Fairgrounds to dry.