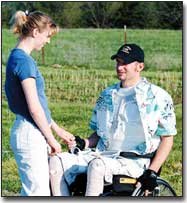 Home on a six-hour leave Saturday from the University of Kansas
Medical Center, Tony Maurer visits with his girlfriend, Kristen
Riley, at the home of his parents, Leroy and Sue Maurer. Maurer
suffered back injuries in an April 1 four-wheeler accident. His
legs were not hurt, but were bandaged to help regulate his blood
pressure.