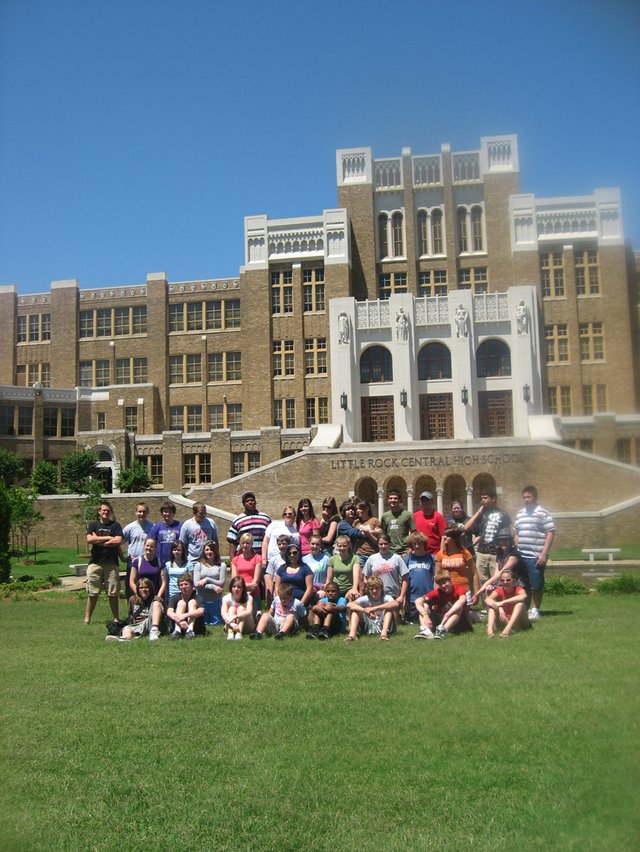 History club members stop at Little Rock Central High School in Little Rock, Ark., as part of the Tonganoxie Middle School club's most recent history trip. Pictured are (front row, from left) Jeremy Fox, Matthew Stephens, Erin Wesselman, Hunter Sturgis, Cole Holloway, Josh Sloan, Keaton Truesdell, Emily Minear, (middle row, from left) Kelsi Briggs, Dena Espeland, Molly Welsh, Jody Baragary, Brett Morey, Ashley Kennedy, Alyssa Miller, Chris Tiner, Shelby McDaniel, Evan Greenwell, Rachel Milbourn, Mallory Harrell, (back row, from left) Jonathan Hendrix, Thomas Miller, Brett Shelton, Gus Dent, Ty Barton, Holley Thompson, Rachel Woods, Paige Lauri, Jaycee Knipp, Tyler Reavis, Perla Mendoza, Austin Searcy, Dylan Haufler, Tori Sutton, Will Bond and Tyler O'Briant. Sponsors, not pictured, were John Tollefson, John Korb, Burt Morey, Becky Sloan, Debbie Holloway, Debbie Gaskey and Kathy Harrell.
Stories this photo appears in:

History students at Tonganoxie Middle School have really been going places the last few years.