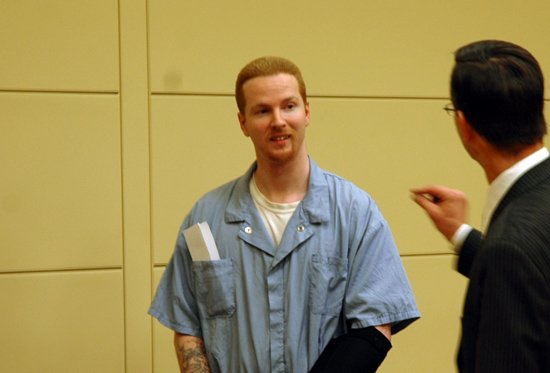 Convicted murderer John Manard appears in 2007 in Leavenworth County District Court to plead guilty to charges related to his February 2006 escape from Lansing Correctional Facility. Manard's court-appointed attorney, Terry Lober, right, arranged the plea.
Stories this photo appears in:

A much-publicized 2006 prison break from the Lansing Correctional Facility will be featured next week during an episode of the cable television series, "I Escaped: Real Prison Breaks."

A convicted murderer whose 2006 escape from Lansing Correctional Facility was aided by a prison volunteer has been sentenced to 10 years in federal prison for unlawfully possessing a firearm during his short-lived freedom.

A Lansing Correctional Facility inmate who made a short-lived but celebrated escape from custody with a prison volunteer has pleaded guilty to a federal charge associated with the escape.